Examples of Newsletter Formats

By the United States Fish and Wildlife
Extensive use of color makes the pdf format an inexpensive way to communicate. Note on page 2 the use of the call-out quote running down one column, nearly for the entire length of the page.
---

inSIGHT By Macular Degeneration Center
Expensive four-color format uses a good, well-written headline on the cover and uses it effectively in color. However, note the picture that faces off the page. The text column and the graphic column could have easily been switched to avoid this graphic error. Attractive floating namplate.
---

Neighborhood News by a neighborhood association
Interesting use of three-column front page headlines. Newsletters perhaps too often shun the three-column headline, but not how well it works here. Nice use of clip art, although the round call-out quote might be a little large. Note the stylized tree and rule that make up the bottom page number graphic. Warm and fuzzy newsletter design makes the neighborhood seem like a nice place to live.
---
Back to the beginning of the newsletter samples pages
See also: How to name your newsletter
---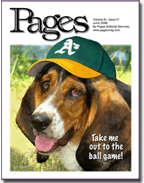 Try one current issue now for just $39.95
For just $39.95, you can access a single issue online. Use anything or everything. We send you a free CD-ROM to archive.