I loved putting my finishing touches on the newsletters, my clients loved getting them.
I made a lot of money over the years doing a "soft sell" by providing this great newsletter to my clients .
Thank you so much for getting me on track in the very beginning when I was struggling, you were great!! I just wanted to let you know how much this increased my business over the years!!
The real estate
newsletter, Housecalls.
Completely finished for you.
Completely customizable by you.
So versatile! Housecalls doesn't
 squeeze you into a rigid format.
It's always relevant to your business.
We save you time; we offer flexibility. We write stories for you, put in pictures, arrange the design, and set-up calendars every month.  Then, you to take the newsletter and make it your own. Put in new listings, your pictures, add a market report. Anything you want.  (Some subscribers just put in their picture and address.) You never have to settle for a story that isn't perfect for your business. Simply choose another story from our Content Service, or add your own story.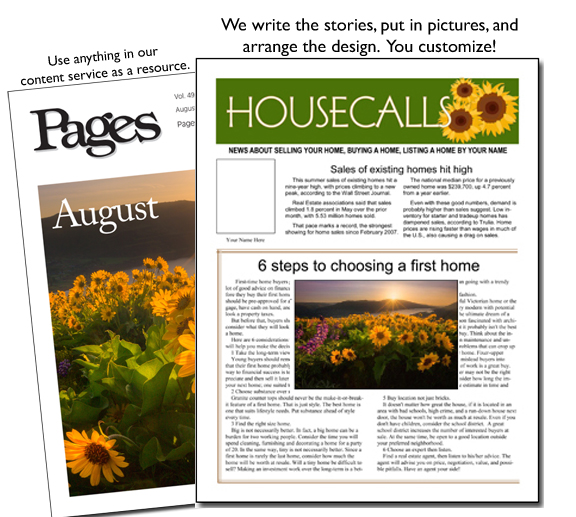 Tailored  for real estate and mortgage professionals
Our upbeat stories celebrate home ownership, lifestyles, and culture. Our front page story focuses on sellers and buyers. 'The Ask The Expert' column addresses common (and sometimes uncommon) mortgage questions.
Member since 2008 takes full advantage of Housecalls customization
This would be the last advertising we ever quit doing. It is the Number One way we keep in touch with clients. They love the newsletter and we do, too.
Here's how we do it. We completely take out page 2 and replace it with a market report. Then we pull two articles from page 3 and put in our own story about Area Happenings. We take out the calendar on page 4 and replace it with New Listings.
We always printed in black-and-white but this year we decided to try color — it looks great.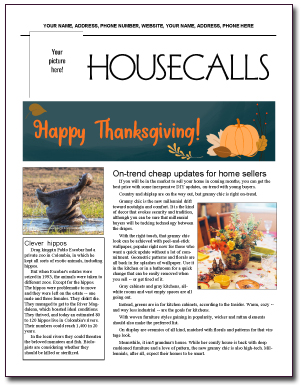 Look on your computer!  Do you have Microsoft Publisher? Most PC users do. Do you have Pages by Apple — most Mac users do. If so, you are ready to download and customize Housecalls. 
Sign up. We'll send you an invoice, if you need it. Get started in 5 minutes!
We'll email you when the new issues are ready. Or visit the Subscriber's page anytime to work on your newsletter.
Customize the layout. Take out a story. Add your own story. Add your picture. Add your logo. Change the name HOUSECALLS, if you want.
You are finished!  Print out the newsletter on your own printer, if you want. Or email it to your favorite printer.
Did you know . . . The cost of one year of Housecalls is less than you would spend to buy one cartoon and one puzzle for 6 newsletters. With Housecalls, you get cartoons, puzzles, articles, and images every month — plus a monthly layout — for a fraction of what you would pay separately.