The done-for-you

Health & Safety




Newsletter

.
 Completely finished for you.
Completely customizable by you.
We write the stories, put in pictures, arrange the layout. You change it to suit your needs.
Some years ago a CEO told us: "If I want to reach employees, all I have to do is put a note in their paycheck." Well, welcome to the future. Few people get their check — or a note — in an envelope. If you want to increase your safety and risk management reach, a newsletter is an essential tool. 
This is a time-saver! 
But that same CEO also objected: Newsletters take up time. Can't argue with that. The newsletter is almost never a person's only job. Still, we think we have the solution. The Health & Safety newsletter is done for you, but you aren't locked into the format. We write stories, match pictures, arrange them in a layout — and you change it to suit your needs (or don't change it at all).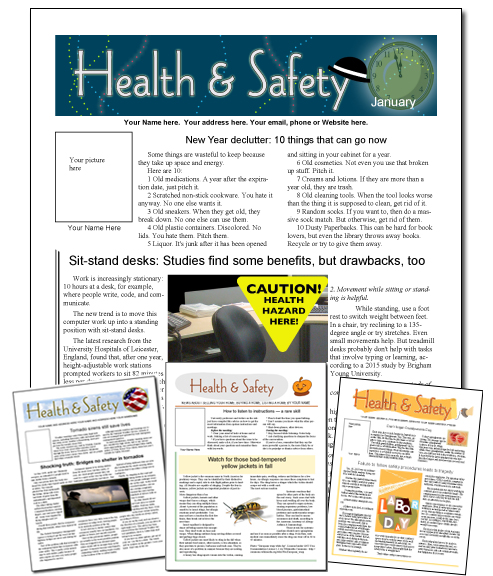 Not just for safety and risk pros!
The PagesMag.com Health & Safety newsletter is the choice of people in medicine, manufacturing, logistics, energy, industrial maintenance firms, law, and even casinos.  Safety and Health issues, after all, affect everyone.
With your annual subscription (365 days + 1 extra!), you will be able to use at least 13 new issues. Plus, all Health & Safety subscribers have complete access to the PagesMag.com article and art service.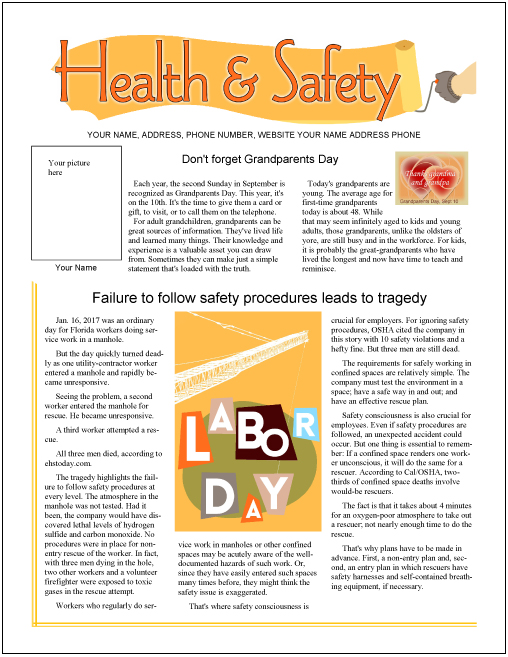 Look on your computer!  Do you have Microsoft Publisher? Most PC users do. If so, you are ready to download and customize Health & Safety.
Sign up below. We'll send you an invoice, if you need it. 
We'll email when each new issue is ready. Or simply go to the subscriber's page anytime.
Customize your layout. Take out a story. Add your own story. Add a picture. Change the name if you want.
You are finished! You never have to give PagesMag.com credit. Now send it to a printer — or save money and print it out yourself!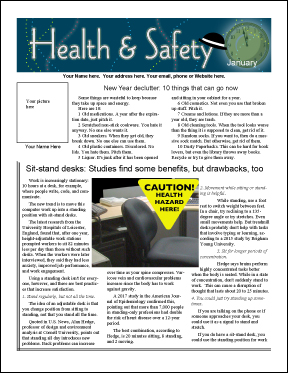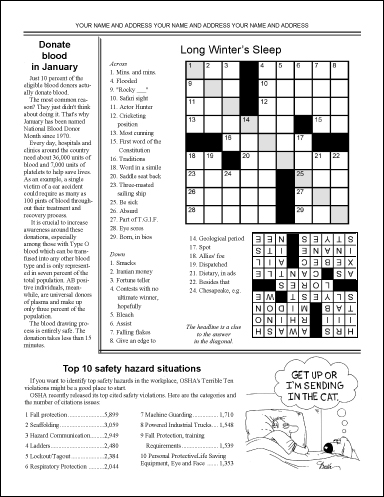 Here's what you
get every month:
Two calendars – One that leaves room for a mailing label and one full page. 
Seasonal crossword and cartoon.
Library of articles you can use.
Change any story or image.
Change the name, colors, content.
Decorative header (You can take it out!)
Change anything using Microsoft Publisher.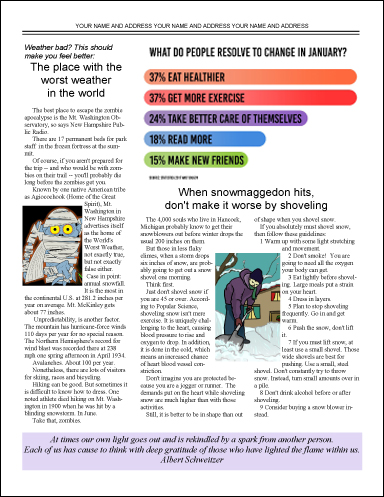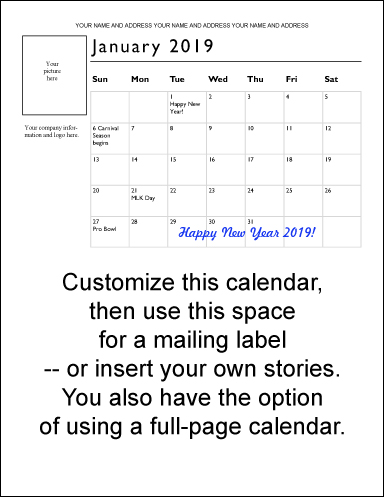 Get My Subscription!
Just $295 per year.
That's about $22 a month for 13 issues.
Did you know . . . The cost of one year of Health & Safety is less than you would spend to buy one cartoon and one puzzle for 12 issues. With Health & Safety, you get a cartoon, puzzle, articles, and images every month — plus a layout — for a fraction of what you would pay per piece.
See Our Subscription Options
Every business needs a newsletter, but not every newsletter-creator needs the same thing. So we have three different subscription options to help you develop the newsletter you want.