Publishing a newsletter or planning to start one? Here's everything you need!
Good News
Newsletter
for Seniors:
Completely finished for you.
Completely customizable by you.
So versatile! Good News
never tries to squeeze you into
someone else's newsletter ideas.
We write stories, put in pictures, arrange the design, and set-up calendars for you every month.  Then, you to take that and make it your own. Put in your own stories, pictures, add to the calendar. Anything you want.  (Some subscribers just put in their logo and address.)
Tailored  for senior living.
The Good News Senior Newsletter features ideas for activities, holiday nostalgia, civic days, little-known history shorts, senior health issues, and Medicare stories.
You can quickly substitute stories, if you wish. Choose different stories from the PagesMag.com Content Service, or write your own story and put it into the newsletter design. Total flexibility.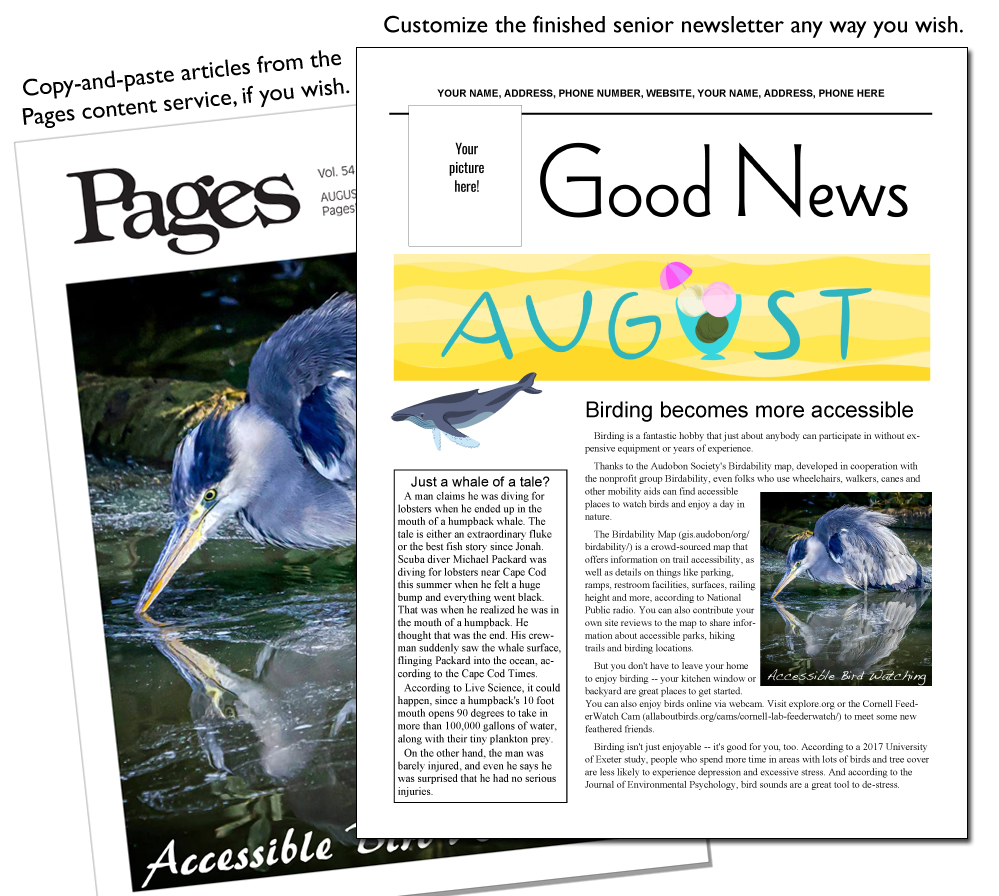 A done-for-you newsletter plus a library of articles and images to pick, choose, and substitute. Plus: Birthday cakes, banners, recipes (with photos), headers.
A Good News-Senior subscriber for more than a decade
"I am so thrilled that I found the Pages Good News – Senior Edition- Newsletter, in 2010. I stumbled upon it when looking for a newsletter template to create my own newsletter for the senior center and what a wonderful help it has been. I no longer spend hours searching for good senior friendly articles online only to find out that copy-rights apply. Pages has given me the option to add, change and personalize the newsletter, as needed. This makes it so easy for me to publish interesting, fun-filled issues each month. Pages is a treasured timesaver and I think it would be for others, too."
Peggy Dimmick
Senior Center Newsletter Creator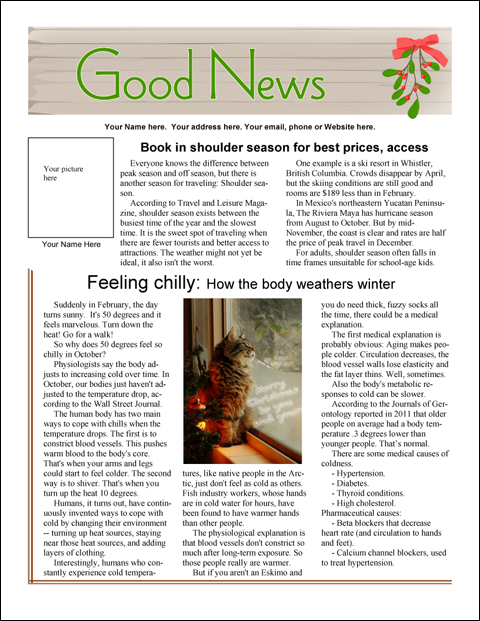 Look on your computer!  Do you have Microsoft Publisher? Most PC users do. If so, you are ready to download and customize Good News.
Sign up. We'll send you an invoice, if you need it.Get started in 5 minutes!
We'll email you when the new issues are ready. Or visit the Subscriber's Page anytime and work on your own schedule. You'll never miss an issue. Issues are always online for your use.
Personalize everything! Take out a story. Add your own story. Add a picture. Add your logo. Change the name Good News, if you want. (Or just put in your name and information.)
You are finished! You never have to give PagesMag.com or Good News credit. Now email it to a local printer — or save money and print it out yourself.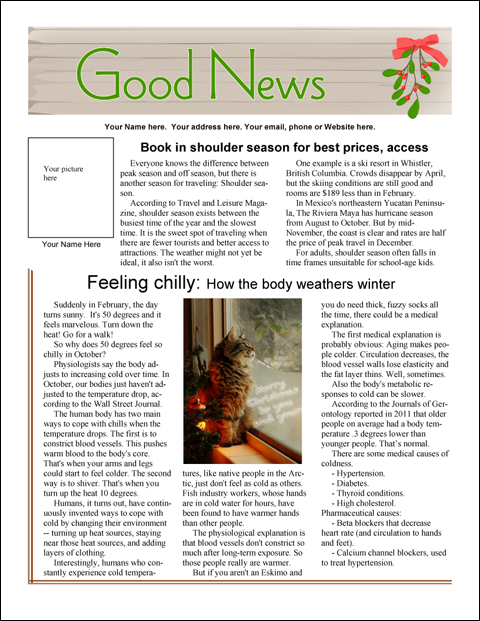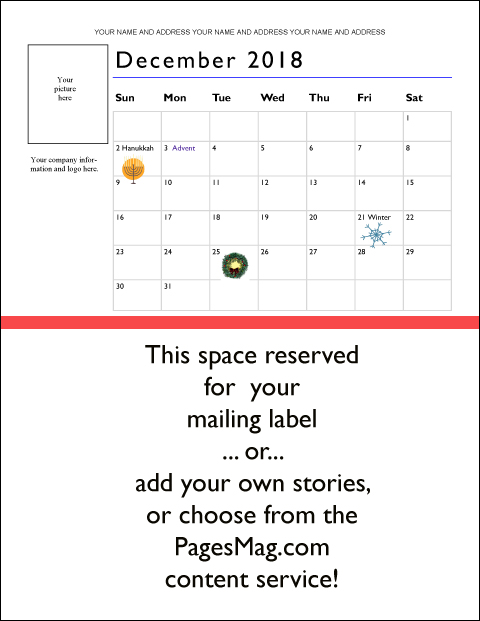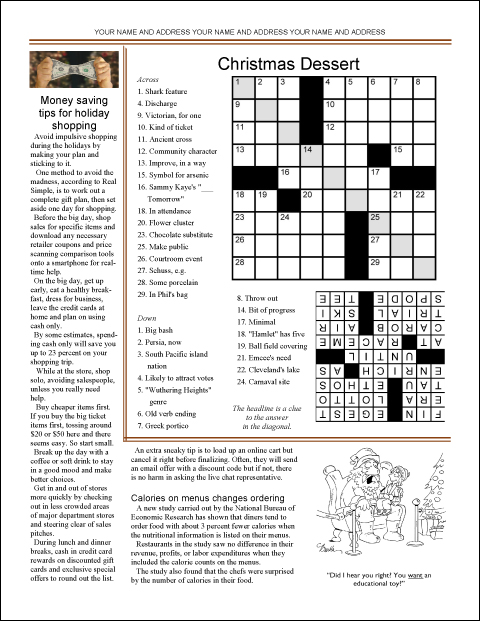 Here's what you
get every month:
Full 4-page done-for-you layout.
Two calendars: Half page and full page. Add your own activities and use the full page calendar as a handout.
11 pt type. Very readable.
Large numbered crossword.
Change the name, colors, content.
Decorative header (You can take it out!)
Full access to the PagesMag.com Content Service and hundreds of senior-specific articles you can use.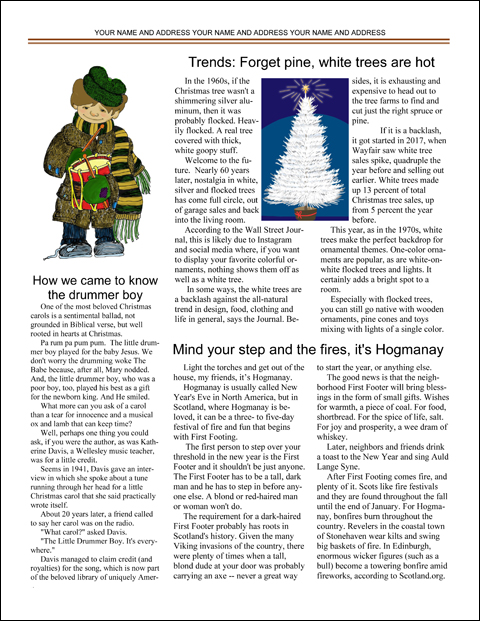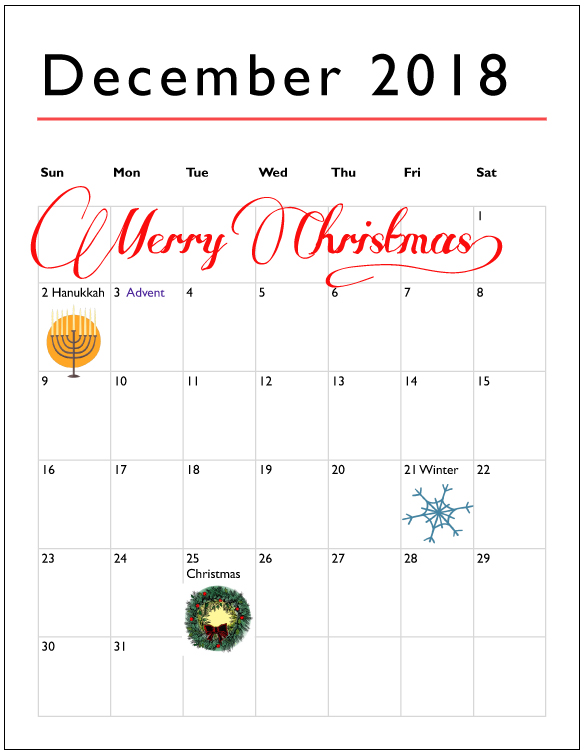 Who should use Good News for Seniors?
Senior Centers.
Senior Living Apartments.
Retirement Communities.
Real Estate agents in retirement communities.
Sales people.
Elder Care Lawyers.
Councils on Aging.
City, State, Federal agencies.
Medicare Insurance Agents
Nursing homes.
Assisted Living Centers.
Home Care Companies.
Get My Subscription!
Just $295 per year.
That's about $22 a month
for 13 issues.
Did you know . . . The cost of one year of Good News is less than you would spend to buy one cartoon and one puzzle for 12 issues. With Good News, you get a cartoon, puzzle, articles, and images every month — plus a layout — for a fraction of what you would pay separately.