How to name your newsletter
(See below for our list of words for newsletter names.)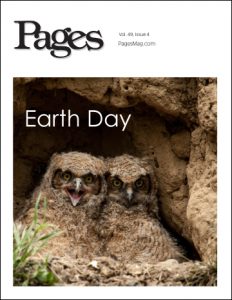 Newsletter ideas, stories, and
images by PagesMag.com
Neighborhood News – Now that's a newsletter that tells you what you are going to read. And, that's what all good newsletter names do.
Newsletters can be more playful with their names than big media publishers – newspapers for example. One very playful newsletter name comes from a group of plumbers who named their newsletter "Poop from the Group."  Maybe a little too far? Probably.
The truth is newsletters don't always need a pun or to rhyme to tell the reader what they are about.  In fact, sometimes thinking of a straight-forward name saves a lot of time and effort. And error.
Let's look at different types of newsletters and what they are called. Scientific, political, employee, and advertising newsletters tend to use the same naming strategy.
Scientific journals stick to the basics
Scientific, technical, and professional journals tend to name their newsletter "Newsletter." This is probably an attempt to maintain decorum. The Space Telescope Science Institute calls its very professional and interesting newsletter "NEWSLETTER." Guess "The Hubble Babble" wouldn't exactly sound scientific. But there is always the exception. Case in point: "Floating Points by Mathworks." Or any number of water treatment newsletters all called "Drips and Drops." Another exception: A plant biology organization calls its newsletter "The Leaflet."
Employee and company newsletter names
Employee newsletters often have very playful names. Imperial Parking Corporation has an attractive newsletter humorously named "Between the Lines." Million Air, a private plane company, has a newsletter entitled "Million Air Miles." Swift brands, a food company, has a handsome newsletter called "Fresh Thoughts." And… just as you might suspect, the Cable Tray Institute's newsletter is named "Cablegram".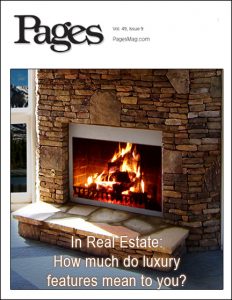 Real Estate and Mortgage
articles and art
from PagesMag.com
Customer and client newsletter names
Real estate and mortgage pros tend not to really name their newsletters at all.  They usually put a photo of their territory, especially if it is iconic, at the top of the page. One example is a California agent who uses a photo of the Golden Gate Bridge, with his name and photo on top. Now, it is entirely possible that some agent named Cliff will come up with "Cliff's Real Estate Notes." But we haven't seen it yet.
One lawyer names his newsletter "Good News" – the reverse of what you might think when a lawyer comes calling. He puts the words over a fresh, seasonal stock photo for a vibrant, colorful newsletter sent to past clients.
A financial and investment advisor, normally a fairly reserved type, calls her newsletter "Dollar Signs," which is pretty much what you want to hear from an investment advisor.
Now each of these types of newsletters has an interesting mix of content.  If you'd like to read about what content they choose, click here.
Newsletter Name Generator – Who knows what you'll come up with!
(Or, scroll down to see a list of words.)
Newsletter Name Generator
Words that
suggest speed:
speed
express
comet
racer
speedy
caller
telegraph
web
telephone
stealth
eclipse
action
gig gigahertz
runner
agile
beacon
blue streak
breakneck
brisk
chop chop
dashing
digital
double time
electric
expeditious
expeditive
flash
fleet,
flying
hair-trigger
hasty
hot
hurried
hypersonic
lickety split
crazy
mad
mercurial
meteor
notes
nimble
PDQ
posthaste
presto
pronto
quick
racing
rapid
ready
screamin'
snappy
speedball
swift
velocious
winged
Words that suggest accuracy:
Accuracy
truth
witness
spectator
reporter
authentic
careful
close,
concrete
correct
defined
definite
deft
detailed
discriminating
discriminative,
distinct
exact
explicit
factual,
faithful
genuine
hawk or hawkeye
judicious
just,
literal
matter-of-fact
methodical
meticulous
particular
proper
punctilious
punctual
regular
right
rigid
rigorous
scientific
scrupulous
severe
sharp
skillful
solid
specific
strict
systematic
true,
unerring
unmistakable
veracious
Words that suggest content:
content
bytes, bits, kilobytes, megabytes, gig
news
tips
resource
advisor
lines
account
advice
announcement
broadcast
bulletin
cable
cognizance
communication
copy
data
description
disclosure
discovery
dispatch
dope
enlightenment
expose
eye-opener
headlines
hearsay
intelligence
itemization
knowledge
leak
lines
lowdown
message
narration
news flash
particular
petition
recital
recognition
release
report
rumor
scandal
scoop
specification
statement
story
telecast
telegram
telling
the goods
tidings
word
hard drive
measure
shot
network
ties
press
spot
voice
flyer
laser
spark
Words that suggest a person or profession
worker
singer
seller
teller
reporter
caller
talker
hunter
jumper
star
flyer
scout
teacher
writer
stalker
helper
lawyer
doctor
linesman
mentor
nurse